Men's Weekly Meditation
The Book of Mark | Read. Listen. Watch. Discuss.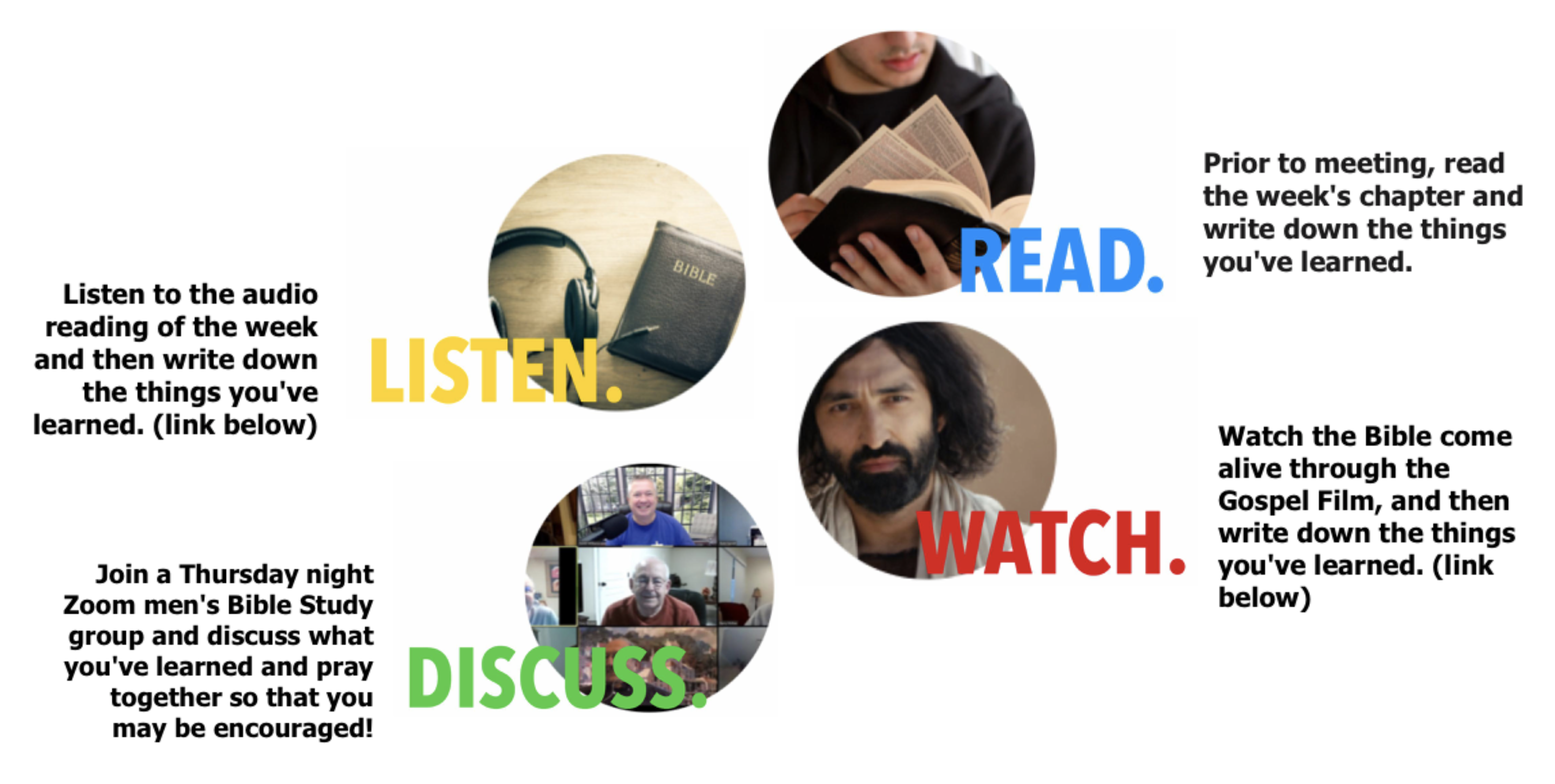 Greetings!
My prayer is that, as you meditate on God's Word that you grow more in the knowledge of our Lord and Savior, Jesus Christ, so that He may become your highest treasure. I would love for you to consider joining one of our small groups virtually (on Zoom) at 7 pm every Thursday as we go through one chapter a week of the book of Mark.
We are partnering with Faith Comes By Hearing to encourage us to take the time to read God's Word on our own, to listen to God's word in audio format, and to watch the FCBH Gospel Film of the chapter that we are covering each week. Reading, listening, watching, and discussing God's Word will help it come alive in our hearts and our minds. So it's simple, study one chapter of Mark a week and join a Zoom Men's Group on Thursday nights from 7 pm-9 pm.
There is more information below, if you have any questions, please do not hesitate to call or email me.
Below you will find the links to each of the chapters we are covering with the written Word, the audio Bible, and Gospel film all on one page.

APRIL 16 – Mark 1 https://live.bible.is/bible/ENGESV/MRK/1
APRIL 23 – Mark 2 https://live.bible.is/bible/ENGESV/MRK/2
APRIL 30 – Mark 3 https://live.bible.is/bible/ENGESV/MRK/3
MAY 7 – Mark 4 https://live.bible.is/bible/ENGESV/MRK/4
MAY 14 – Mark 5 https://live.bible.is/bible/ENGESV/MRK/5
MAY 21 – Mark 6 https://live.bible.is/bible/ENGESV/MRK/6
Below are the list of life group leaders and their Zoom meeting ID's and password's, there is also a downloadable PDF that will give you more information on how to download zoom, all meeting start at 7pm Thursday nights:
Devin & Steve's Small Group:
Devin Winiecke: (714) 290-8898 |
Steve Gold: (714) 785-1009 |
ZOOM ID: 476-483-8874
ZOOM PASSWORD: No Password required
______________________________________________
Jim & Ron's Small Group:
Jim: (714) 889-8737 |
Ron: (714) 951-8489 |
ZOOM ID: 840-912-0777
ZOOM PASSWORD: men (lowercase letters)
______________________________________________
David's Small Group:
David: (714) 743-3018 |
ZOOM ID: 456-771-7329
ZOOM PASSWORD: MOC4Jesus
______________________________________________
Chuck & Kevin's Small Group:
Chuck: (714) 468-8472 |
Kevin: (714) 822-0579 |
ZOOM ID: 684-829-1261
ZOOM PASSWORD: No Password required
______________________________________________
Al & Richards Small Group:
Al: (714) 658-4615 |
Richard: (714) 548-2613 |
ZOOM ID: 354-119-4416
ZOOM PASSWORD: 0n9QQS
---